Go Below Transport Vehicles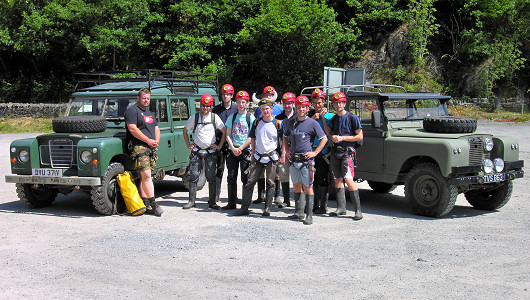 We maintain a fleet of classic leaf-sprung Land Rovers as our means of transport from the kit room to the mine, a journey which takes around 10 - 15 minutes. They are important members of the team and we think they are much more interesting than mini-busses. The five vehicles shown below have a combined age of 169 years!
---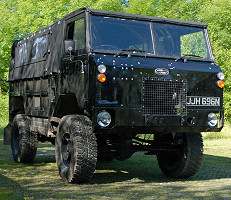 "The General" is our Land Rover 101 Forward Control. He's a former Gun Tractor, built in 1975 and serving in the British Army for many years before retiring from active service ten years ago.
He's since been extensively refurbished to our specification, including a gloss black paint job and mohair hood.
He seats 10 passengers plus the driver, with space for lots of kit. The sides roll up for the summer!
He's powered by a 3.9 litre injection V8 petrol engine with electronic ignition, and coupled with a stainless exhaust means you can hear his bark long before you can see him! He looks huge, but he's actually shorter, and weighs less, than a modern Freelander 2.
He received a replacement 3.9V8i engine and gearbox in 2012. The new gearbox has a Limited Slip Centre Differential and Overdrive.
---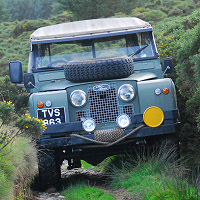 "Dolly" is our oldest vehicle and celebrated her 52nd birthday last year. She's a short-wheelbase model and can carry five passengers as well as the driver.
She was extensively rebuilt onto a new chassis a few years ago and is as reliable and practical as any modern car. She has a 2.25 litre petrol engine, positive earth electrics and a dynamo.
She has a four speed gearbox, an overdrive, and two speed transfer box giving 20 possible gearing combinations to the 4x4 transmission. As with all Series Land Rovers, she has leaf sprung beam axles and drum brakes all round, and sits on 235/85R16 mud terrain tyres.
---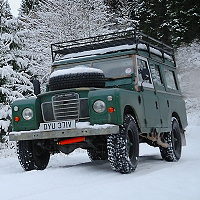 The "Safari" is a five door station wagon and seats up to 10 passengers plus the driver. She's a 1979 Series III but has a more modern 2.5 litre petrol engine from a 90, which replaced the original 2.25 litre unit.
Hard working and very reliable, the Safari sits on parabolic leaf springs, one-ton wheel rims and 255/85R16 all terrain tyres.
The chassis was extensively refurbished in 2012.
---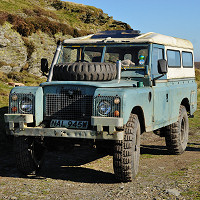 "Maybel" is a Series 3 LWB, built in 1981. She carries 9 passengers plus driver.
When we got her she had lovely "aged" bodywork that we felt we'd like to preserve, so she's not been painted or modernised externally. Mechanically and structurally though she's maintained in top order to be ready for any adventure.
She rides on huge 14 ply 9.00/16 military tyres fitted to one-ton rims, driven by a re-engineered 2.25 litre four pot petrol engine. We think she used to belong to the Post Office.
---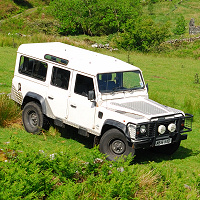 "Monty" is our youngest Land Rover by a long way, and is the only one riding on coil springs. He's also our only diesel powered vehicle.
Monty is an ex-police 300TDi Defender 110 Station Wagon. He didn't come from the regular production line though, he came from Land Rover Special Vehicles, who built him specifically to the requirements of the police.
Modifications they made include an updated Salisbury axle on the back, and a vacuum take off next to the tow hitch for power assisted brakes. They also fitted disc brakes all round, which are not standard on Defenders of this age.
We've given him a Terrafirma 2" lift and some military XZL tyres from Michelin. He seats 10 passengers plus the driver.
---