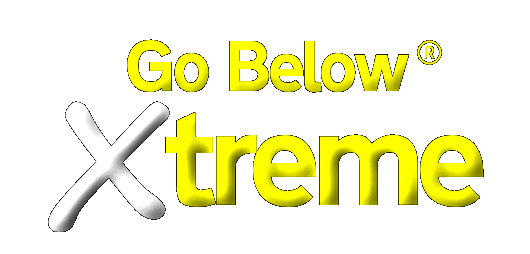 If you think you're ready for the next level in underground challenge, our Go Below® Xtreme adventure will be just what you're looking for.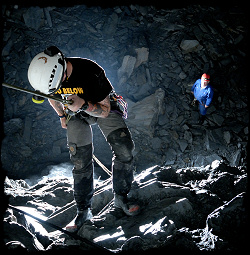 Starting from our Tanygrisiau Base, we kit up with a harness, helmet, lamp and Wellington boots before walking up to one of the largest and deepest abandoned slate mines in the world.
When the doorway is reached, we enter the labyrinth of fifty miles of tunnel and a thousand spectacular caverns carved by the Victorians though the very heart of a mountain.
The going gets tough quickly, and it stays tough. Our route takes us over many lofty traverses - balancing on old beams or pipes over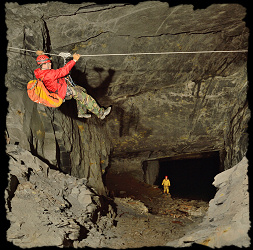 breathtaking voids of darkness. We cross ancient timber bridges and abseil off hideous drops to sink deeper and deeper under the earth.
Ultimately we reach the very bottom accessible floor of the mine - 1,300 feet under the mountain. It is here that we are at the very deepest publicly accessible point that can be reached in Great Britain.
After an explore of this fascinating underworld, we slowly make our back up step by step to terra firma. You may be leaving the mine behind, but memories of an experience of a lifetime will be coming home with you.
What's involved in the
Go Below® Xtreme Trip?
The Go Below® Xtreme adventure runs all year round, whatever the weather and all your safety kit (including Wellies) is provided. The trip takes all day, including kitting up, the brief, the walk to and from the mine and your time underground. The size and ability of your party will influence the speed at which you progress and the range of activities that your instructor will present.
No previous experience in caving or climbing is required for this trip. There is no squeezing through tight spaces involved and you are not expected to get excessively wet (unless you fall in a big pool of water!) However, this trip is very mentally intense and physically demanding. A good head for heights is essential, as is a reasonably good personal level of fitness and agility.
You can see a video of a group on our Challenge Xtreme here
This trip is unsuitable for those under 18 years old due to the very challenging environment and high degree of self-responsibility that is afforded to participants. It is also unsuitable for the elderly, those who are unfit, those who are unwell, pregnant or excessively overweight and those who are infirm or of a nervous disposition.
£69 Per Place (adults only)
This trip starts from our Tanygrisiau Base
Go Below® Xtreme Schedule!
See our Interactive Trip Calendar for more information.