Other Trips and Activities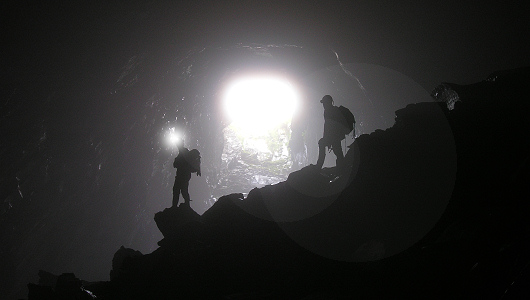 In addition to our regular daily trips, we also run a number of other activities for individuals and groups on request. This list is not exhaustive but shows some of the things we've done in the past for others. If you'd be interested in undertaking any of these please just give us a call to talk it through. These can often be done in the morning, afternoon or evening as required.
Underground Treasure Hunt
Popular with youngsters particularly is our Treasure Hunt. We split the participants into groups of 3 or 4 and hand them an "olde-worlde" map of an area of the mine, showing where a number of secret markers are hidden. The groups then have to find their own way around the mine (with just candles if you're feeling brave!) to locate the markers. On each marker is a number which must be recorded. When all the markers are found, the numbers must be added together to learn the combination code - which opens the lock on the treasure chest in the middle of the mine to win the treasure! (Note - it's not real treasure, it's usually chocolate coins! But you are also welcome to provide your own treasure as long as it fits in our chest.)
Historical ('Discovery') Trips
For those more interested in the historical and industrial side of mining rather than having a sporty experience, we can offer you an underground "Discovery" trip around a slate mine. Your guide will lead you through the mine and instead of performing all the roped activities, you'll stick to just walking ground. Your guide will explain the history of the mine and demonstrate how the slate was won from the mountain. He can show you abandoned artefacts, old tools and working methods. Often, there are fascinating ruined mine workings to be seen on the surface too while walking back to the vehicle.
Photography Trips
We often take individuals or groups of photographers into our mines who would like to spend a few unhurried hours to wander around and take photographs of the workings and artefacts. A Go Below guide will accompany you to oversee your safety and also help with locating the most interesting scenes to photograph. You can also use him/her as a prop or flashgun holder - very useful!
Advanced/Bespoke Trips - Mine Guiding
We're all qualified Mine-Explorer Leaders here and if there is something specific you and your friends would like to see and do - just let us know. You can hire one (or more) of us as a guide and we can provide the equipment, expertise and local knowledge you're looking for.
It might be that you've always wanted to see a slate mine or a metal mine and just want a professional guide who knows the way to come along with you. Or perhaps you are looking for more of a challenge and need a professional to put you through your paces! Just ask us - we can't take you absolutely anywhere but our local knowledge is extensive from years of recreational mine exploration.
Introduction to Mine Exploration
If you're considering taking up Mine Exploration as a hobby but you're nervous about getting started, you can hire a Go Below guide for an afternoon or evening to take you into a few easy mines. S/he will show you around, explain the dangers, what to look for, the equipment you need and so forth. Please note that this isn't a specific course with a recognised qualification at the end, think of it more as a little one-on-one practical advice to get you started in mine exploration on the correct foot.